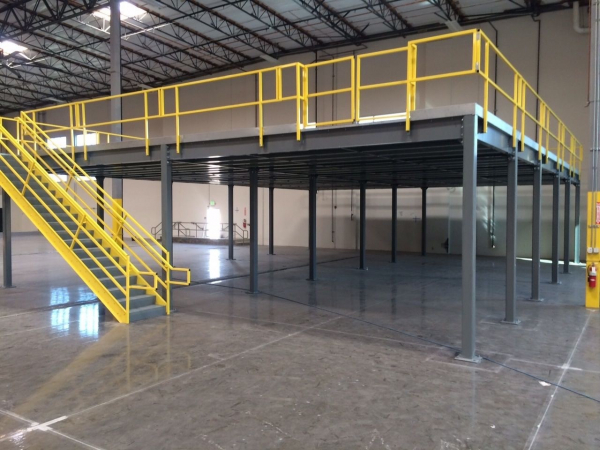 Mezzanine Levels
Every business understands that warehouse and factory floor space is extremely valuable. Two-story pre-engineered mezzanines add useful space to your work environment without taking up precious square footage within your structure. Within factories and warehouses, two story pre-engineered mezzanine structures make use of vertical space within your facility that would otherwise be unusable.
Industrial free standing two story mezzanines from United Partition Systems adds usable space to your facility without having to build additional structures on adjoining lands. United Partition Systems has the knowledge and resources to provide modular two story mezzanine structures that deliver space for modular offices, modular lunch/break rooms, conference rooms, or an added storage mezzanine.
Contact us for more information regarding our free standing mezzanines, or call us at 800-959-0878 and we will gladly discuss your exact project specifications and available options. United Partition Systems is your trusted source for modular offces and mezzanine structures.
Prefab Mezzanines
Our modular two-story office solutions utilize a concealed structural steel sub-floor for upper support and feature insulated, 4" thick walls that provide exceptional sound and temperature control. We can provide up to 50' clear spans with no obstructive interior columns for the following applications:
Modular Mezzanine Level Advantages
At United Partition, we provide the most advanced and customizable modular office solutions in the industry. Each modular office project that we take on is manufactured to exact customer specification requirements. Our professional experts will build your modular two story mezzanine in a matter of days, without disruption to your everyday workflow. Additional benefits that an industrial two story pre-engineered mezzanine provides includes:
Valuable vertical floor space
Precision Engineered flexibility & versatility
Minimal maintenance
Easy to expand and/or relocate
Read more about the benefits of Two Story Mezzanine Office Structures here.
Fully Customized Mezzanine Levels
At United Partition Systems, our two story mezzanine wall systems are built using 4" thick, insulated panels to provide the most prolific sound and temperature control options available. Our custom warehouse work platform solutions provide factory pre-wired, UL-classified raceways that offer a flush interior surface for electrical outlets and phone and data ports. We can also fully customize your industrial two-story mezzanine based on your exact specifications.
Contact United Partition Systems for Mezzanine Levels Today
Request a quote today for more information regarding our custom industrial mezzanine systems, or call us at 800-959-0878 and we will gladly answer any questions that you may have. United Partition Systems is your trusted source for modular two-story pre-engineered mezzanine structures.