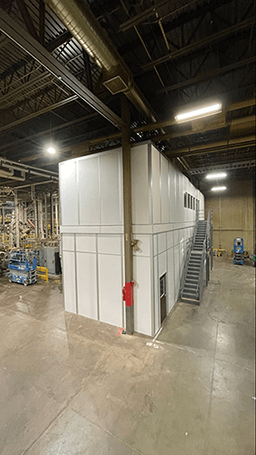 Two-Story Modular Office Buildings
A two-story modular office building is a perfect solution for production plants, warehouses, and other industrial facilities where more office space is needed but square footage is limited and building outward isn't an option. A two-story modular office takes advantage of unused overhead space by stacking two office modules on top of each other.
United Partition Systems is your premier source for interior modular buildings and two story in plant office structures. We provide an affordable alternative to costly, permanent construction. Our pre-fab modular two-story office solutions provide the quickest onsite installation times in the industry.
Contact us for more information regarding our modular two-story office structures, or call us at 800-959-0878 and we will gladly answer any questions that you may have. United Partition Systems is your trusted source for premium grade two story in plant office solutions.
Two-Story Inplant Modular Features & Benefits
If a lack of available floor space is a problem at your facility, United Partition has a fast and easy solution to double your usable space: build upward with a two-story office! Our modular two-story offices give you a clear view of adjacent areas in your plant or warehouse, along with additional room below for more offices, storage areas, or production work space. Two-story interior modular building structures offer the following advantages:
Provide additional square footage
4" insulated wall system
Class A fire rated
Pre-wired, UL-Classified Raceways for electrical components
Meet seismic requirements
Sound and temperature control
Easy to expand, reconfigure, or relocate
Two Story Modular Building Service & Support Solutions
United Partition Systems offers comprehensive service and support to ensure that your two story office meets your requirements. Our modular office systems can be supplemented with fire protection and HVAC systems, mechanical systems solutions, custom designs and engineering, and full-service installation.

What is a Two Story Modular Office Building?
Comprised of prefabricated components—walls, windows, prewired Raceways, etc.—that are manufactured elsewhere and installed onsite, two story modular buildings are a fast and inexpensive alternative to traditional construction. Though built with lightweight materials and designed for easy assembly, modular two-story offices are engineered to be safe and stable, with ample support that allows the upper level to be fully equipped with office equipment and furniture. Their modular components allow them to be configured as needed, and each level can be divided into multiple individual offices or rooms as desired by individual needs.
Two-Story Modular Office Space Design Features
Our modular two-story office solutions utilize a concealed structural steel sub-floor for upper support and feature insulated, 4" thick walls that provide exceptional sound and temperature control. We can provide up to 55' clear spans with no obstructive interior columns, giving you additional space for equipment, offices, break rooms, conference rooms—anything for which you need extra space!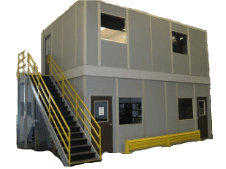 Class A Fire Rated Compliance Standards
All our two-story modular offices are Class A fire rated, comply with OSHA regulations, and meet or exceed the nations' strictest seismic and structural requirements. Factory pre-wired, UL-classified raceways provide a flush interior surface for electrical, phone, and data connections.
Multi-Level In Plant Modular Buildings are Easy to Install, Expand & Upgrade
We engineer our two-story modular offices for easy installation in any facility, with minimal interruption of day-to-day operations. Many of our clients choose to install their modular offices themselves; we also have factory installation crews available. Either way, installing a United Partition two story modular building is faster and less expensive than standard construction.
Our two-story modular offices can be modified, reconfigured, expanded, or relocated (space permitting), giving you versatility that traditional construction can't provide.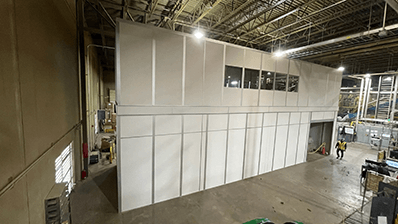 Learn About Our Storage and Load Bearing Roof Structures for Modular Office Buildings
A modular office with a load bearing roof can be installed with minimal disruption to everyday operations, and generally require little to no structural changes to your existing building.
Two story modular offices from United Partition are a high quality, cost-effective alternative to permanent construction. Give us a call at 800-959-0878, get a quote today or contact us to learn more about our modular office solutions.
View Brochure