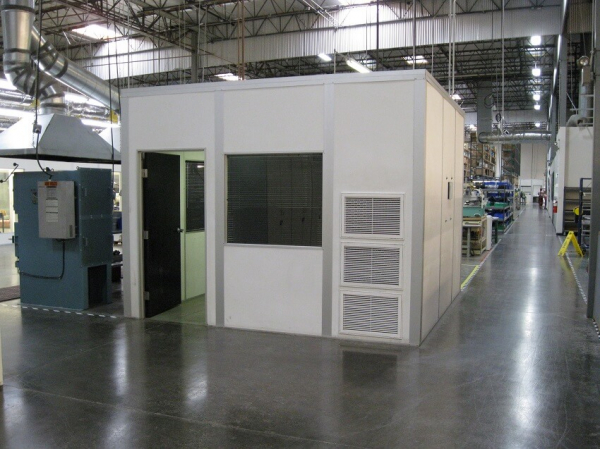 Modular Office Systems
Modular offices are prefabricated offices that are manufactured in sections and then delivered to a site for installation. Prefabricated offices are widely used in warehouse and manufacturing operations and as a cost-effective solution for office remodels. They are typically available in single story or two-story options and have all the same features of a standard office including electrical wiring, HVAC system and fire suppression systems.
Custom built modular buildings provide several benefits including:
Convenience
Fast installation
Structural strength
Easy to reconfigure, relocate and expand
Optimized space
Read more about the benefits of Custom Modular Offices here.
Modular Offices Customized to Meet Your Needs
At United Partitions we offer several modular space solutions to fit your unique application needs. All our modular space solutions feature our 4" UL Classified wall system for superior sound and temperature control and are easy to install. Rust-proof, anodized aluminum framing provides a sturdy structure and the addition of an optional load bearing ceiling provides space for additional storage above.
Modular offices are also incredibly easy to relocate, expand and reconfigure as needed, making them a cost-effective and versatile solution. The easy and virtually mess-free installation also helps prevent disruption of your daily operations.
Our exclusively designed, fully customizable, prefabricated modular offices provide the office setting that works best for your unique workplace. Get a quote today or give us a call at 800-959-0878 to learn more about our modular office options for warehouses, breakrooms, conference rooms and more!
Modular Enclosure Uses
Modular Offices for the Expanding Company
Inplant Modular Offices
Two Story Modular Offices
Warehouse Offices
Modular Shipping & Receiving Offices
ModularLunch Rooms or Modular Break Rooms
Modular Locker Rooms
Modular Conference Rooms
Mezzanine Offices
Contact United Partitions for Custom Built Modular Offices
Learn about our engineering and architectural specifications for customizing an office space to meet your needs. Contact us today by requesting a quote or give us a call at 800-959-0878 to get your modular office project started today.