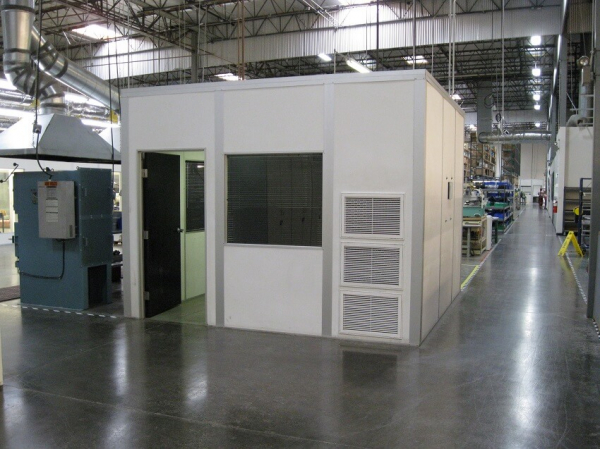 Modular Office Systems
Modular offices are prefabricated offices that are manufactured in sections and then delivered to a site for installation. Prefabricated offices are widely used in warehouse and manufacturing operations and as a cost-effective solution for office remodels. They are typically available in single story or two-story options and have all the same features of a standard office including electrical wiring, HVAC system and fire protection systems.
Custom built modular buildings provide several benefits including:
Convenience
Fast installation
Structural strength
Easy to reconfigure, relocate and expand
Optimized space
Read more about the benefits of Custom Modular Offices here.
Modular Offices Customized to Meet Your Needs
At United Partitions we offer several modular space solutions to fit your unique application needs. All our modular space solutions feature our 4" UL Classified wall system for superior sound and temperature control and are easy to install. Rust-proof, anodized aluminum framing provides a sturdy structure and the addition of an optional load bearing ceiling provides space for additional storage above.
Modular offices are also incredibly easy to relocate, expand and reconfigure as needed, making them a cost-effective and versatile solution. The easy and virtually mess-free installation also helps prevent disruption of your daily operations.
Our exclusively designed, fully customizable, prefabricated modular offices provide the office setting that works best for your unique workplace. Get a quote today or give us a call at 800-959-0878 to learn more about our modular office options for warehouses, breakrooms, conference rooms and more!
Prefab Modular Uses
Modular Offices for the Expanding Company
If you are looking for a modular office that is completely customizable to your unique needs, then look no further than United Partitions prefabricated offices. Our
modular office spaces
create a unique office environment that has all the features of a standard office, with the added incentive of fully customizable options. From the ceiling height, and number of windows, to the placement of the door(s) and custom colors and finishes, it's easy to tailor our modular office systems to fit your space and your application.
Inplant Modular Offices
If your company needs an easy way to expand or relocate a facility, then
inplant modular offices
are the right choice. United Partition's inplant modular offices can be installed indoors or outdoors and are designed and built to match your specifications. Our custom-built portable office spaces provide a range of features including 4" system insulated walls, UL-Classified electrical raceways, and customizable HVAC and fire protection systems.
2 Story Modular Offices
If your company is in search of a larger modular office solution that provides more usable space within the same square footage, then a
two-story modular office
is what you need. A two-story modular office design is great for saving usable square footage of your warehouse floor.  Building up with a 2nd level will allow for more space to use for production or material storage. Our 2 story modular offices are built to your specific specifications, designed for fast and easy installation, and meet all seismic requirements.
Warehouse Offices
Large warehouse facilities need
warehouse offices
to manage the production and facility staff. United Partition offers custom modular factory offices that are designed to your specifications. Our custom built warehouse offices are a cost-effective solution and can typically be installed without disrupting the day-to-day operations of your facility. Top quality materials, sturdy construction, and numerous special features make our modular warehouse offices the best in the industry. 
Portable Offices for Shipping & Receiving
A facility without a built-in shipping and receiving office can often become cluttered and unorganized, especially if your company has a lot of product coming in and out of the facility. Our
shipping and receiving offices
are just the thing if your facility wasn't built with a dedicated mail room. Built to your specifications, prefab offices give you a quiet, enclosed space for employees, supplies, materials, equipment, and more.
Portable Offices for Lunch Rooms or Modular Break Rooms
If your location does not have a space for employee lunches and breaks, a custom
modular office lunch room
is an ideal way to provide your employees with a clean, comfortable space. United Partitions modular lunch rooms and break rooms are fully customizable and provide room for a fridge, tables, chairs, and everything else a good break room needs. Our portable offices are easy to install and can be expanded and/or relocated as needed.
Modular Locker Rooms
Do you need employee lockers and changing rooms for your factory or warehouse? If your employees need to change or get ready for the workday, United Partition can help you develop a
modular locker room
solution. These separate interior structures don't require long on-site construction times, so you can take advantage of providing this required solution in less time and with less facility disruption. 
Modular Conference Rooms
If your company needs a controlled space for team meetings, why not consider a
modular conference room
? United Partitions portable offices can give you the conference room you need to conduct meetings, training, or other events in privacy and comfort. As an added benefit all our modular office systems come prewired, and our UL-classified raceways make it easy to power computers, A/V equipment, and other devices.
Mezzanine Offices
A mezzanine office is an ideal option for those that are looking to conserve space while gaining the added benefit of an office that overlooks the warehouse. Our modular office rooms provide clear unobstructed views for managers needing to provide supervision to large areas. In addition, United Partitions
prefabricated mezzanine offices
are fully customizable to your unique standards, from length and width options to various elevations needed for proper viewing or clearance over existing machinery and work areas.
Contact United Partitions for Custom Built Modular Offices
Learn about our engineering and architectural specifications for customizing an office space to meet your needs. Contact us today by requesting a quote or give us a call at 800-959-0878 to get your modular office project started today.