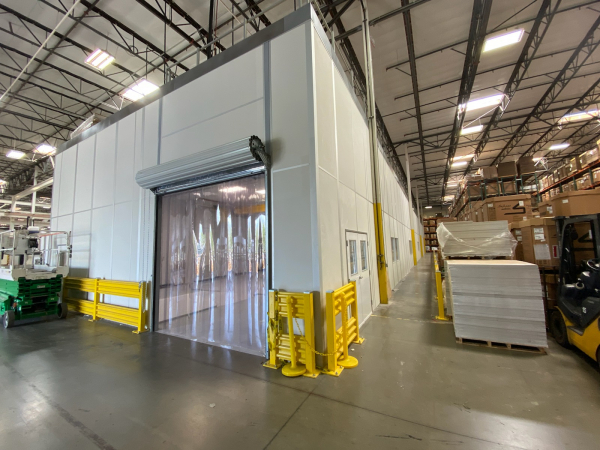 Cleanrooms and Other Modular Solutions
Modular systems are used throughout various industries as a cost-effective solution for redesigning interior spaces or for constructing structures outdoors. Customized modular office solutions are manufactured with insulated vinyl panels that can be fitted with doors and windows and configured into virtually any shape or size.
Common Applications for Cleanroom Systems
United Partition Systems provides a wide variety of modular solutions including full height modular systems for offices, modular prefabricated cleanrooms, prefabricated modular guardhouses, and more. Panels for our customized modular office solutions are available in four colors and we offer optional load bearing roofs to provide additional storage and increase usable floor space.
Get a quote for full height modular systems or contact us to discuss your custom requirements.
Modular Cleanrooms
Industries including aerospace, electronics, laboratory and medical device manufacturing involve activities that require an environment with minimal contamination. Modular prefabricated cleanrooms from Cleanrooms By United are manufactured to your exact specifications and provide an economical alternative to permanent wall structures. Our modular cleanrooms are fully customizable and meet cleanliness levels from Class 100 (ISO 5) to Class 100,000 (ISO 8). All our custom modular cleanrooms are designed and built in accordance with ISO 14664-1/US Fed Std. 209 standards.
View Brochure
Common Examples of Cleanroom Systems
We also offer a wide variety of other cleanroom options at our sister site Cleanrooms By United. 
Modular Office Services
At United Partition Services we provide advanced quality modular office and building solution services. We have the experience and resources to provide the finest and most functional modular offices and buildings in the industry. The modular options and services that we provide include 
Additional Modular Office Products
Storage Roof & Load Bearing Roof Solutions
If you need additional office space, but do not want to sacrifice the square footage of your warehouse floor area, adding a load bearing roof option to one of our customized modular offices is an excellent solution. Our customized modular office solutions can be built with a load-bearing roof for storage and other applications, essentially doubling the usable floor space. From a standard 75psf load design for 2nd level offices to 125psf storage loads for added material and product storage, features can be customized to meet your unique requirements.
The addition of full height modular systems allows you to reconfigure your workspace without the mess and expense of constructing permanent walls. Our office partitions are designed and manufactured to your exact specifications and feature an insulated foam core with a vinyl-clad finish over drywall for effective sound dampening and climate control. Full height partitions are easily installed within a few hours and can be further customized with electrical raceways, outlets, data jacks and light switches.
United Partition's modular guardhouses and field houses are the perfect solution for outdoor security personnel. These full height modular systems can provide 360° visibility and are built with our 4" system insulated walls to provide a comfortable space in harsh weather conditions. Best of all, they're built to your specifications.
If all your existing office structures are at ground level, but you have a need for an aerial view of your facility, our vision towers are the solution you are looking for. United Partition's modular vision towers are the best way to gain a higher vantage point within your facility. These customized modular office solutions are easy to install, without the need for extensive on site construction. They are also built to fit your height and space requirements, providing increased functionality in a personnel and comfortable space from which to view your work area.
Request a Quote for Custom Modular Systems
We provide full height modular systems and additional modular solutions for a range of applications including offices, guardhouses, cleanrooms and more. Cleanrooms By United manufactures our prefabricated cleanrooms. Request a quote for your modular solution today or give us a call at 800-959-0878 to discuss our specific requirements.