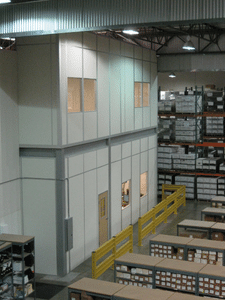 Two Story Cleanroom Solutions
In environments where there are space constraints, a two-story or multi-story cleanroom system may be needed. When you don't have any available space to expand further on the facility floor, building up into high warehouse spaces can be your best option. Two-story clean rooms are also helpful in combining linked activities such as Quality Control Labs and staff offices, by stacking them all together for more efficient production.  The Cleanroom space can be designed for either the floor level or 2nd level, with these other important non-classified areas just above or below.
Check out our two-story modular office buildings with customizable height options designed specifically for your needs. United Partition Systems is your proven source for modular cleanroom design solutions, offering customized options and easy expansion. Contact us to begin talking with a professional about your modular design today.
Multi-Story Modular Clean Rooms
United Partition can help you discover a solution for additional cleanroom space and, in some applications even work above existing rooms you have in place. A cleanroom over a cleanroom, separating ISO classifications by floor, or designing QC Labs over cleanroom production space, your requirements will form our design.  Moveable cleanroom units are flexible, relocatable, and standalone, with all the advantages of a modular cleanroom and none of the hassle of standard drywall construction or renovation.
Any of the following pre-fab modular office spaces can include a cleanroom level:
Not sure if your space or application can incorporate a two-story cleanroom? Give us a call today to discuss premium multi-story office solutions.
Second-Story Clean Room Design Options
Your cleanroom design options are endless at United Partition. Depending on your application needs, there are many different design components to choose from, from flooring to walls to ceiling options:
Fan Filter Unit options (FFUs)
Fire Suppression Systems
HVAC & Mechanical Systems
Lighting & Electrical Systems
Windows, Doors & Entryways
Various Materials Used to meet specific needs
Give us a call to discuss your design and engineering options for multi-story modular cleanrooms today.
Two-Story Modular Office & Cleanroom System Advantages
There are many benefit to installing a multistory cleanroom. These indoor structures are designed to stand independently within your warehouse space and to grow with your business. Moveable cleanroom units can be easily relocated, modified, and/or expanded as your business needs change.
United Partition can work with you from design to complete installation of your customized cleanroom. A multi-story system creates additional modular space for your growing business, and our team uses the finest quality materials for every unique application. Learn more about our company history and expertise in the industry.
Contact United Partition to Develop a Multi-Story Clean Room System Today
If you've been considering expanding your business, moving locations, or renovating for additional office space, we can help you find a simpler option. Contact us today to discuss your customized two-story cleanroom system. Ready to get started? Request a quote on your multi-story modular clean room.