Modular Office Specifications
Before constructing your modular office system, we custom tailor a 16 point specification checklist to ensure that all your specific customizations are met.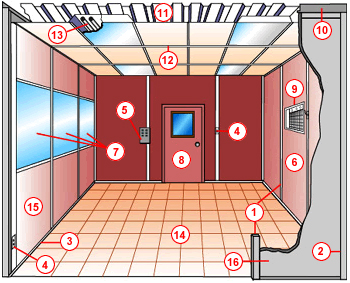 1. Standard Connecting Post
Anodized aluminum extrusions shall be alloy 6063T6, used to frame entire wall sections. Standard H-Post connection forms a tight panel to panel connection for maximum noise and thermal control. Anodized finish eliminates possibility of rust or corrosion seen in steel post systems.
2. Corner Post
Massive one piece anodized aluminum connector to assure fastest possible assembly of corners.
3. Base Track
Anodized aluminum channel (fastener to floor) supports and secures wall panels. "Fastened" – Slim-line attractive finish which eliminates need for core base molding. Factory cut to size with necessary mitres for fast, easy installation.
4. Electrical Raceway
U.L Classified Raceway Posts are not used only to connect one panel to another but also for concealed wiring. Our vertical U.L Classified Raceways are provided with duplex outlets, light switches and 220v outlets. The U.L. Raceway can also be used for phone/data jacks, snap of cover provides ease of wiring on site. Post is provided factory wired and includes the U.L. labeling to insure current NEC standards are met.
5. Load Center
Standard breaker panel is single phase, 120v/208v with maximum 100amp capacity for 6, 8, or 12 circuits. Load Center is surface mounted to your desired raceway location and is provided with breakers as required by the equipment ordered with unit.
5a. Circuit Breaker
110v duplex outlets and standard lights will be provided with a 20 AMP 1-pole snap-in breaker and 220v outlets will be provided with 20 AMP 2-pole snap-in breaker unless otherwise specified. Main feed to panel from existing power source is not included unless otherwise noted on quotation.
6. Wall Sections
Panels shall be 4" nominal thickness – 1 lb EPS board core with 1/8" hardboard or ½" gypsum on interior and exterior surfaces. Standard Panel finish to be vinyl clad and available in a wide selection of colors. Check with factory on other available finishes and panel cores. All solid panels, Doors and window panels are interchangeable with panels of like size.
7. Windows
Windows (and doors when requested) will be factory glazed with 3/16" clear tempered safety glass. All glass to be shipped pre-installed in framing so that no glazing is required on-site. Standard windows are 4' wide and are available with horizontal sliding half-open glass as an option. Options for dual pane glass, tinted glass, and polycarbonate are available. Window kick panel and header panel come factory cut to size and ready for installation.
8. Doors
Standard door is 3' wide by 6'-8" tall, pre-finished in walnut woodgrain. Doors are shipped complete with hinges and lockable ADA leverset. Standard Double door option is 6' wide by 6'-8" tall. Custom sizes are available as well as other finishes such as steel or paint grade.
9. Comfort Control Options
Various size air conditioner units, exhaust fans and heaters can be provided and sized accordingly. Wall mounted units come in a factory cut & framed wall panel with appropriate power outlet located adjacent to the unit. For larger systems a centralized HVAC unit is also available.
10. Fascia Trim
An anodized aluminum fascia trim is provided to conceal roof decking and provide finished appearance.
11. Roof Deck
The top cover of the enclosure is a minimum 22 gauge steel corrugated deck (non-load bearing) that provides clear spans of up to 20 feet. Beams or bar joist are required for additional lengths. This roof deck provides an independent structure from the facility and removes the need for long wires up to the warehouse roof as seen in standard drywall construction. Options are available for load bearing systems to provide support to an upper level room or added capacity for material storage.
12. Ceiling
An acoustical T-Bar ceiling – white enameled grid with 2' by 4' mineral tiles – provides a finished interior and sound deadening above The standard system is Class A Fire Rated and is available with option for added 6' batt insulation (R-19) for increased sound and thermal control. Random fissured tiles are standard with vinyl clad washable tiles or custom finishes available as an option.
13. Light Fixtures
Light Fixtures are 2' x 4' LED flat panel recessed type used for acoustical ceiling systems. Wiring and conduit to be furnished by others. Surface mount light fixtures come standard when panelized roof is utilized.
14. Flooring
Our modular offices sit directly onto your existing floor. Optional glue down commercial grade (Armstrong) tile or 20 oz. commercial grade glue down carpet is available in numerous colors.
15. Attractive Finishes
Standard vinyl clad finishes available in white, almond, gray and gray linen. Choose one color for the interior and another for the exterior if you like! Other colors, as well as FRP, aluminum metal clad, wood, or steel metal clad are available as an option.
16. Aluminum Framework
Connecting posts are used not only to unite one panel to another but also act as channeled raceways for telephone and electrical lines. Connecting posts are a major structural element in supporting loads and also allow for individual panels to be removed without disrupting adjoining panels. Base channel shall be a continuous "U" channel pre-cut and pre-mitered for ease of leveling and will securely support wall panels when attached to foundation.
Ready to Get Your Modular Office Design Started?
Give us a call today at 800-959-0878 to speak with our modular office design experts or get a quote today. Download the full specs document here.