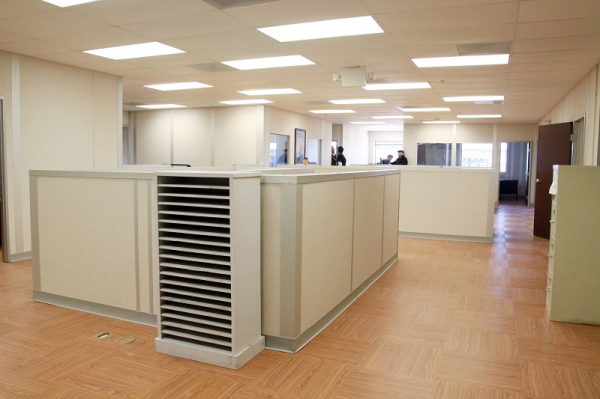 Modular Office Design Options
At United Partition Services we provide advanced quality modular office and building solution services. We have the experience and resources to provide the finest and most functional modular offices and buildings in the industry. The modular services that we provide include the following:
Modular Office Installation
At United Partition Systems we provide complete turnkey modular office solutions for industries throughout the world. Our team can assist you in evaluating and resolving your individual modular office needs. We have a dedicated team to take your plan from the design stage to its completion, including the meeting of all local permitting requirements (i.e. drawings, calculations, energy calculations, etc.). At United Partition Systems we complete your project on time and with guaranteed satisfaction.
In addition, our modular office installation teams will travel throughout the country and are willing to work holidays, off-shifts, 24-hour shifts, or whatever it takes to meet your production schedule. We want to make sure the job is done right and is in good working order before we leave your facility. Our goal is to keep your project on target and within budget!
Fire Protection Services for Modular Offices
Fire suppression systems protect your investment from unforeseen accidents in the workplace. Our fire suppression systems meet or exceed National Fire Protection Association code requirements. We offer a wide selection of finished sprinkler head designs from semi-recessed heads to custom concealed (pop off) applications to fit your exact project needs.
Contact us for more information on how our fire suppression systems can improve the overall safety of your modular designed building, or request a quote for an in-depth price analysis today.
Modular Unit Flooring
With distributors throughout the United States, our carpets are stocked locally for immediate response to your needs. Our commercial grade loop carpets are available in a variety of standard colors, with nearly an unlimited number of custom color and design options. We also provide glue down installation for resiliency and long wear and offer installation over commercial grade pad when requested or required.
Additionally, United offers commercial vinyl composition tile manufactured by Armstrong – the biggest manufacturer of resilient floor coverings in the United States. We also offer numerous other modular office flooring options including wood, sheet-goods and ceramic tile, and we can often match existing materials.
Partition Wall Options
Modular office partitions provide a cost-effective approach to dividing space and adding new rooms within your facility. United Partitions can utilize your room's existing ceiling space and create a unique layout that incorporates your exact specifications with our fully customized office partition design and installation services.
Modular Office HVAC and Mechanical Systems
United is the industry leader in fabricating state-of-the-art heating, cooling, and ventilation systems that meet or exceed today's stringent industry standards. We can develop a custom, compliant HVAC and mechanical system that provides proper design criteria.
At United Partition Systems we specialize in custom designs and regularly build to suit your specific modular office and industrial needs, from 1 to 100 tons PLUS. There is no application too small or too large for us to amply supply and satisfy all HVAC needs for any modular office project.
We are proud to offer York, Trane, Carrier as well as numerous others. Nationally recognized, respected, and locally distributed, we choose brands that are known for parts availability and exceptional warranties. We are confident that we can provide the HVAC system and service best suited for your individual needs.
Modular Structure Design and Engineering
Whether you already have a preliminary drawing or need complete modular office design services, we can provide you with a cost-effective system that meets your portable office or structure project requirements. Our systems are factory engineered and designed to meet all your specifications for temperature, humidity, differential pressure, lighting, and noise levels. They can also be designed and engineered to accommodate roof loads for storage, or mechanical and process equipment. Furthermore, our design and engineering permitting is available in all 50 states.
Ready to Get Your Prefab Office Project Started?
Give us a call today at 800-959-0878 if you have any questions or get a quote today. Or, discover more about our modular offices, modular two story offices, or machine enclosures.