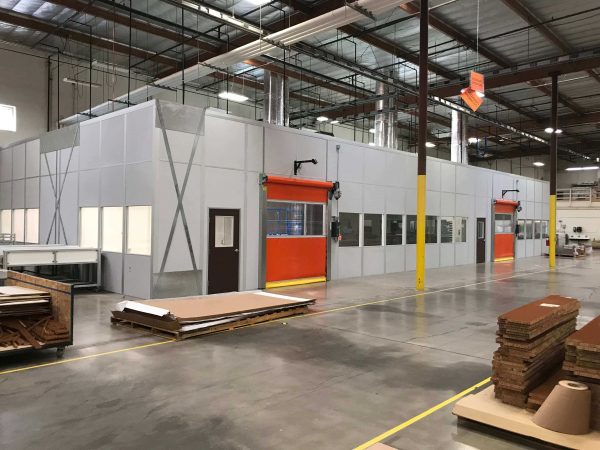 Portable Modular Buildings
Industrial portable building systems are fully customizable, and unlike standard drywall construction projects, prefabricated modular buildings can be used for numerous applications, industries, and businesses that require flexibility and a fast, convenient setup.
At United Partition Systems, our industrial interior portable buildings are customized to your specific factory, warehouse, or commercial facility. We offer quick on-site installation, and our modular structures provide improved productivity with sound-reducing walls and comfort heating & cooling systems.
Contact us for more information regarding our custom prefabricated portable structures, or call us at 800-959-0878 and we will gladly answer any questions that you may have.
Portable Buildings for Factories and Warehouses
At United Partition Systems, we work with you to find suitable solutions for your modular enclosure needs. Our primary focus is on interior modular structures, providing solutions for additional office space, team conference rooms, machine enclosures, and cleanroom systems.  United Partition can provide the following capabilities:
Sound deadening & temperature control
Mezzanine Offices & two-story systems
Systems to meet building requirements all across the United States 
Benefits of Choosing a Modular Portable Building
There are many benefits to choosing United Partition Systems for your large portable standalone buildings. We provide advanced quality design assistance, complete with engineering so an architect is not needed. Our U.L. Classification allows for simple electrical installation and meets current National Electric Code Requirements. United Partition's modular buildings utilize self-contained construction, meaning they are independent and don't require support from any existing roof or walls. Other benefits include:
Portable and reusable
Accelerated Depreciation Tax benefits
Modular Building Custom Features
At United Partition Systems, we have the resources and expertise to offer the finest prefabricated modular offices in the industry. We provide advanced quality modular and portable building services to determine your customized solution needs. Some of our services include:
Prior to constructing your custom industrial modular building, we also perform a 16 point specification check in order to ensure all your customizations are met.
Portable Building Advantages from United Partition Systems
Whether you're looking for additional working space in your warehouse or factory, United Partition custom designs prefabricated portable building units to your specifications and safety standards. The United Partition advantage includes complete design, fabrication, and factory crew installation. We've simplified our process, so our industrial portable buildings are constructed in half the time or less of standard construction methods. At United Partition Systems, we have almost 40 years of experience designing custom modular buildings for any industry.
Contact us for more information about our prefab portable building solutions, or request a quote to get started on your custom standalone warehouse tenant improvement today.