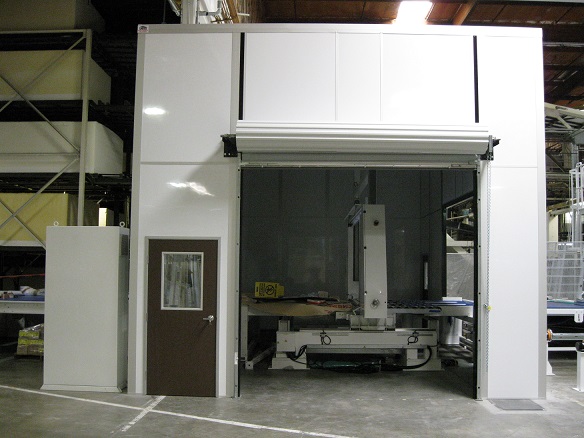 Machine Enclosures
Manufacturing plants, machine shops, and other facilities operating large industrial equipment are often noisy, dirty places. All that noise and dirt can be hazardous, and can negatively affect productivity, employee health, and equipment performance. Machine enclosures are an ideal solution: by isolating your equipment, you can reduce noise, improve working conditions, and create a cleaner and safer workplace.
A machine enclosure from United Partition will provide effective control of environmental noise, temperature, humidity, and particulates. Whether you need a cleanroom for an injection molding machine or simply want to reduce noise pollution caused by equipment in your facility, we have the right machine enclosure for your needs.
Contact United Partition for your Machine Enclosure Quote Today
Get a quote today or give us a call at 800-959-0878 to learn more about our machine enclosure systems. Download our machine enclosure brochure for additional information. Visit our controlled environment division, Cleanrooms By United, for further machine enclosure options.
Machine Enclosure Features
United Partition's modular machine enclosure systems are available with a number of standard and specialty wall panel finishes. Options include vinyl, painted steel, aluminum, PVC, and a special FRP finish that protects machine enclosure walls against damage and scratches caused by pallet jacks or other moving equipment.
All our machine enclosure models can provide environmental control to maximize performance by protecting sensitive equipment from harsh environmental conditions. Oversize rollup or strip doors are also available to accommodate the movement of large equipment and materials into and out of the machine enclosure.
The modular nature of our machine enclosures allows rooms to be reconfigured, expanded, and moved with no loss of materials investment.
Machine Enclosure Options
United Partition offers an array of machine enclosure options, all of which are customizable to the needs of your unique application. We can provide:
CMM Enclosures
With over three decades of experience, United Partition can design, build, and install modular CMM enclosure solutions for any automated machinery process. Our modular buildings are ideally suited for use as CMM enclosures/CMM rooms, metrology labs, gauge rooms, and calibration/quality control areas.
CNC Enclosures
CNC manufacturing equipment can provide incredible accuracy within thousandths of an inch. A
modular CNC enclosure
for your CNC system will help you isolate high precision equipment and protect it from external factors that may affect its performance.
Printing Machine Enclosures
For the best performance and best quality printing, most print machines require ideal environmental conditions. A
printing machine enclosure
enables you to maintain the required temp and humidity levels and keep out dirt, dust, and debris caused by other processes within your facility.
Laser Rooms
A laser cutter is a significant investment, and requires a number of unique maintenance and safety measures. A
modular enclosure for your laser system
will help you maintain a controlled environment for optimum performance and gives you a reliable safety barrier to keep employees safe.
EDM Enclosures
By isolating EDM (electrical discharge machining) equipment from your factory's ambient environment, you can improve efficiency and part quality. Our specially-designed
EDM machine enclosures
will help you regulate temperature, humidity, and other factors that can affect the EDM process.
Pump Enclosures
United Partition offers custom
pump enclosure solutions
designed and manufactured to meet our customers' unique specifications. A secure, dedicated enclosure for your water pumps and other fire suppression equipment provides protection against undue wear and tear, and can extend the longevity of these machines. Whether your pump system is inside or outside your facility, we can provide the perfect custom solution for your needs. 
Benefits of Modular Machine Enclosures
Machine Enclosures Help Ensure Peak Productivity
Environmental factors can have an effect on the performance of your equipment. Many industrial machines require precise calibration, and fluctuations in temperature or humidity can throw that calibration out of whack. Similarly, the materials used in processing or manufacturing operations—particularly in the food and beverage industry—often require carefully controlled conditions. Both improper calibration and mishandled materials can lead to high reject rates, which in turn wastes valuable time, effort, and materials. With a machine enclosure from United Partition, you can maintain the ideal environmental conditions needed for peak productivity.
Machine Enclosures for Safety of Personnel
Heavy machinery of any kind is inherently dangerous, and for safety's sake should be given a wide berth. However, most manufacturing or processing operations require an array of equipment, and floor space is finite in even the largest facility. With numerous workers and multiple machines occupying a limited space, accidents are just waiting to happen. United Partition machine enclosures will help keep personnel safe by providing sturdy barriers between them and dangerous, fast-moving equipment.
Machine Enclosures Help Keep Surrounding Work Environment Cleaner
Over time, dirt, dust, and other airborne particulates can wreak havoc in an industrial setting. They build up on and in your machines and inhibit their performance, they can ruin the raw materials used in your daily operations, and they can require significant time and effort to clean up. All of which can slow down production, or worse, bring it grinding to a halt. Modular machine enclosures from United Partition are the perfect way to contain the dirt and grime your equipment produces every day. You'll still have to clean, but it will be far easier with the mess in a confined area instead of spread throughout your whole factory.
Machine Enclosures Reduce the Noise in a Work Environment
Even the most quiet industrial equipment can be very noisy. Put multiple machines in a single workspace, and you've got nonstop, high volume mechanical clatter. In addition to being harmful to workers' hearing, all that noise makes it hard to communicate on the shop floor, which can slow down production and lead to unnecessary waste, accidents, or worse. United Partition's machine enclosures provide effective sound dampening for even the loudest machines in your plant, helping you keep the ruckus to a minimum.
Machine Enclosures are Versatile in Times of Expansion or Renovation
A machine enclosure can be more than a machine enclosure. The same structure can serve as a storage space or an in plant office, and provide a temporary solution for numerous needs if your facility is undergoing renovation or expansion. United Partition also provides a range of modular office options to fit any need.
Read more about the benefits of a Modular Machine Enclosure here.
Contact Us for the Machine Enclosures You Need
We are your #1 source for modular machine enclosures, offering a range of features and options that can be custom-tailored to your unique requirements. Get a complimentary price quote or contact us for more information about our customizable machine enclosures. Call us at 800-959-0878 to speak to one of our team members today!